DEKONSTRUKTOR
Eating the universe Tape. Out now!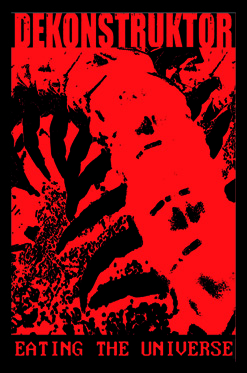 DEKONSTRUKTOR is a russian band that dwells in the realms of doom and disruption since almost ten years.
Evolving on a crushing doom metal basis, the style of the band also comes with influences of old industrial and experimental music.
The outcome sounds greasy, quite suffocating, infernal, rusty, disconnected, epic, quite tortured, and can remember the industrialized doom disconnection of GODFLESH (Streetcleaner), the doom and fuzz of ELECTRIC WIZARD (In a more tortured manner), the industrial subprojects that came from the extreme metal scene in the early 90's, perhaps the most monolithic moments of very early CATHEDRAL, the heaviness of the swiss band SLUDGE (Naked scarecrow),with touches of VOIVOD...
Listen: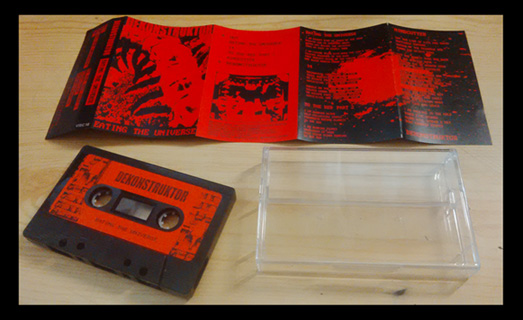 This is the tape rerelease of their first album "Eating the universe", initially available only on Russian labels. Now released in Europe by VISCERAL CIRCUITRY Records.
This comes as a black cassette with sticker. Pro printed color cover.
Available against 3,30 euros (+ postage) from this webshop;
http://visc.tictail.com/product/dekonstruktor-rus-eating-the-universe-tape
Or from NIHILISTIC Distro:
http://nihilisticdistro.tictail.com/product/dekonstruktor-rus-eating-the-universe-tape
..
An interview of DEKONSTRUKTOR is now online on NIHILISTIC HOLOCAUST Webzine.
Check it out to learn more about this Russian Doom metal/ Acid metal band.
http://nihilistic-webzine-distro.fr/Interviews/dekonstruktor.htm
--------------------------
I can trade the DEKONSTRUKTOR cassette against other tapes, CDs or fanzines…
Bands/ Labels/ Zine editors: Get in touch!
--------------------------

---
Permission de ce forum:
Vous
pouvez
répondre aux sujets dans ce forum